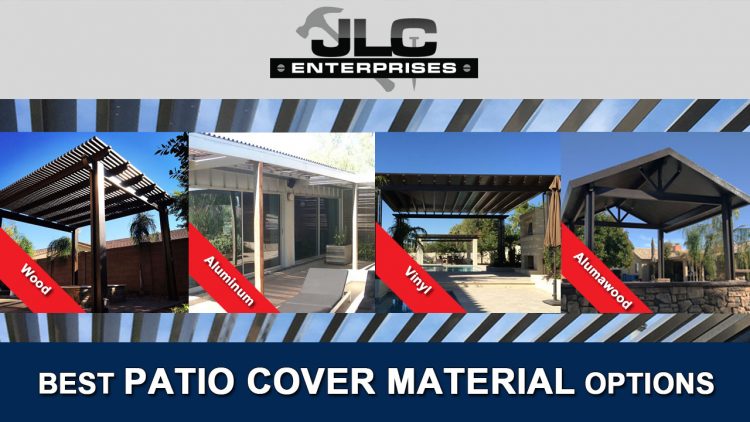 You have finally decided to add that patio cover. The next big step is in deciding which material to use. The materials used will determine the quality of your patio coverage, especially in Phoenix and its surrounding areas. The materials that are used will need to be strong enough to withstand the extreme heat conditions and strong winds over a long duration.
However, in order to feel comfortable during the time you are underneath the cover means it will need to be made of a light weight material. We are going to help you with deciding by giving you the three most used materials in different types of patio covers, along with their pros and cons.
Wood Material
Wood Material Con: The Up-Keep Is Very Demanding!
Wood will need to be sanded and repainted on a regularly basis if you want to hang on to that gorgeous appearance. In fact, since wood patio covers will be prone to peeling, warping, and rotting, it makes it challenging to extend its life.
Wooden Material Pro: It's Beauty!
Wood not only gives off an appearance of beauty, it also gives one a feeling that is extremely difficult to convey. Wood also has a variety of different types, sizes, textures, and colors to choose from, of which all make great materials for designing and styling your home.
Aluminum Material
Con: Heat retention!
Metal makes for a great heat conductor. If your patio doors that were made from aluminum panels it could certainly make you uncomfortable when underneath it.
Pro: It's Durable!
It is very durable, has a lower cost, with only a little upkeep needed. This material surpasses the qualifications for being lightweight, but strong. Aluminum can provide protection against the elements without for-going comfort. This kind of material is not going to peel, warp, or become rotten. It is also a material option that is less expensive.
Vinyl Material
Vinyl Material Con: In Its Appearance!
One of the issues with vinyl is that it is possible for it to fade over time. It does not have the level of beauty as wood does. Usually, vinyl patio covers have a limited amount of colors to offer, and it will not be able to be painted of earthy tones, which can complement many homes. Also, there have been homeowners that complained on how cheap it looks.
Vinyl Material Pro: It Offers Low Maintenance!
If you're not willing to take the time or put out the money to sand and repaint your patio cover every two to three years, then go with the vinyl material. Remember, vinyl can be a lot more durable than wood for it is not going to peel, warp, or rot, like wood can.
Alumawood Material (Best Option)
Pro: Quality & Maintenance
This type of material has the quality of all three of the types above, all in one combination. This type gives you the strength and the feel of being light weight just like the regular aluminum panels, only the problem of heat is not included. Also, it has been engineered in a way that it has the same feel and appearance as natural wood, except, it will never need to be painted, and just like vinyl, it will never become warped, rotten, or peel. It means it is going to take very little or no upkeep.
Xcel Xteriors Is A Patio Cover Contractor In Phoenix, Arizona
If your thinking about installing a patio cover in Arizona, let JLC Enterprises assist. JLC Enterprises offers installation of wood, alumawood, aluminum and lattice patio covers for homeowners in Phoenix, Gilbert, Glendale, Mesa and other areas in Arizona.