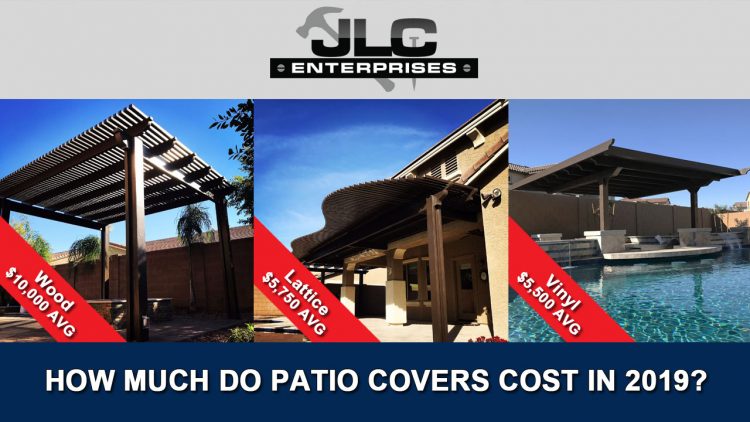 The average patio cover cost is about $1,000 to install a 10ft x 10ft patio cover. A patio cover is an inexpensive way to upgrade your home's exterior space depending on the type you choose. Some patio covers cost more to install than others. Learn more about the cost to install different types of patio covers below.
Cost By Size
10×20 ft patio cover: $1,500, range $1,000-$2,000
80×20 ft patio cover: $5,000, range $4,000-$6,000
100×100 ft patio cover: $7,500, range $5,000-$10,000
Cost By Type
Aluminum Patio Cover Cost: $3,500, range $2,000-$5,000
Vinyl Patio Cover Cost: $5,050, range $3,800-$6,300
Wood Patio Cover Cost: $10,000, range $7,000 to $13,000
Lattice Patio Cover Cost: $5,750, range $4,000 to $7,500
How Much Do Patio Covers Cost?
As an example, use a basic 10ft x 10ft (100 sq ft) lattice patio cover  In the majority of materials found, costs would start around $1,000 to install. However, depending on the patio cover, this cost can have a large range of cost. Therefore, the difference comes down to a few important cost factors, being the difference between all material costs for the patio cover you want.
The overall location (on a hill, dirt, finished slab), and dimensions needed for the finished product.
The style of patio covers you are wanting, is it a solid cover or lattice cover?
The majority of patio covers may be fabricated as one of three main materials, including wood, aluminum or vinyl. The material type will greatly impact the overall cost, along with labor cost for installation.
Remember, harder installations will be more expensive. It is easier to install rectangle patio covers than 'L' shaped covers. Additionally, add-ons, such as custom paint, footings or lighting will increase the final cost of the patio cover project as well.
Aluminum Patio Cover Cost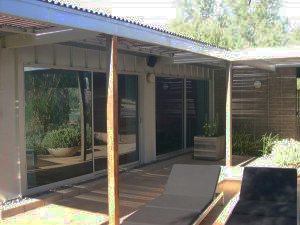 Aluminum patio covers cost about $3,750. Installation costs range from $2,000 – $5,500.
For decades aluminum patio covers have been a common option due to it being an inexpensive option. In addition, the material is versatile. There are Alumawood patio covers that feature distinct patterns of wood grains, like those at jlcenterprises.com. This gives a combination of both materials, you get the look of wood and a lower cost than vinyl or wood.
Not only is the price an advantage, aluminum patio cover provides weather resistance from rusting, termites, cracks, and rotting. Alumawood covers are able to be customized to match your preferences and needs. They can be installed in a popular lattice cover style, a 3-inch thick high-density insulated foam roofing system, or uninsulated roof. The cost will depend on the final systems, styles and kits used.
It is fairly simple to install these type of covers, even for homeowners that enjoy DIY projects. If a kit is purchased, covers will come with required parts for the entire installation. Of course, you have to provide the tools. With help, the average expected installation time for a 10ft x 10ft aluminum lattice cover is 8 hours.
If you're interested in a professionally installed 10ft x 10ft uninsulated Newport cover, the cost averages $2,000 – $3,500.
A professionally installed 10ft x 10ft lattice cover averages $1,800 – $2,200.
For a professionally installed 10ft x 10ft Alumawood 3-inch thick insulated cover, without any add-ons the cost averages $3,600 – $5500
Pros:
Affordable
Good for resale
Simple to get permitted
Ceiling fan and light compatible
Lightweight and simple to install
Various styles and colors
Appearance like real wood
Does not deteriorate or rot
Does not require painting, ever
Cons:
Appears like a 'kit' cover
Aluminum is not allowed by some HOAs
Can be damaged easily
Gloss look to paint
If cut wrong, an entire new piece is required.
Vinyl Patio Cover Cost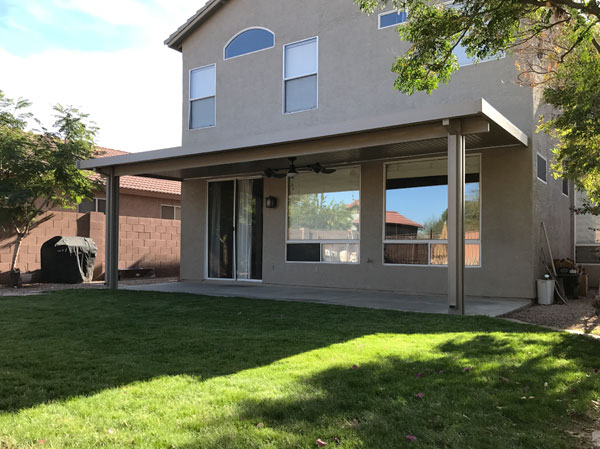 Vinyl patio covers cost about $5,550. Installation costs range from $3,800 to $6,300 which is more than aluminum patio covers, but slightly less on average than wood patio covers. Basically, when compared to aluminum and wood, vinyl is the worst of the trio.
Vinyl patio covers fall between wood and aluminum. It is fabricated from PVC, giving a larger range for application. Did you know that PVC is most popular for being used in plumbing, with 75% of plumbing pipes being made from PVC worldwide? It can also be located in flooring, electrical piping, and clothing too. In the healthcare industry, PVC is used everywhere, from oxygen masks to surgical gloves.
Vinyl is a popular material because it resists frequently encountered issues with wood, such as warping, rot, insects, etc. Unlike Aluminum, it will not crack, fade, or rust. Although, there are cases where vinyl has yellowed over time. However, vinyl also shares various characteristics that aluminum provides.
The reason vinyl more expensive than aluminum covers is because it requires more material/product to install. Like wood, aluminum is a stand-alone product, where vinyl will need extra steel members installed for stability at each structural piece. These additional pieces increase the cost of vinyl patio covers, due to more material and labor. Aluminum and wood do not require any extra pieces to remain stable.
For a basic 10ft x 10ft fully covered vinyl patio cover, the average cost ranges between $3,825 – $6,275.
DIY kits for solid roof patio covers range between $1,800 – $4,300.
The average cost of vinyl lattice patio covers range between $2,200 – $4,350.
The average cost of DIY kit for lattice patio covers range from $989 – $3200 with custom cutting.
Pros:
Compatible with ceiling fans and lights
Does not need painting
Does not deteriorate or rot
Good for resale
Moderate risk of damage
Cons:
Expensive
Known to yellow over time
No wood patterns, smooth finish
Requires add-ons for stability
Sometimes untreated wood is used by contractors as filler
Drawings or engineering may be required for certain conditions
When cutting, a wrong cut requires a whole new piece/cover
Vinyl may not be allowed by some HOAs
Vinyl material may fade overtime
Wood Patio Cover Cost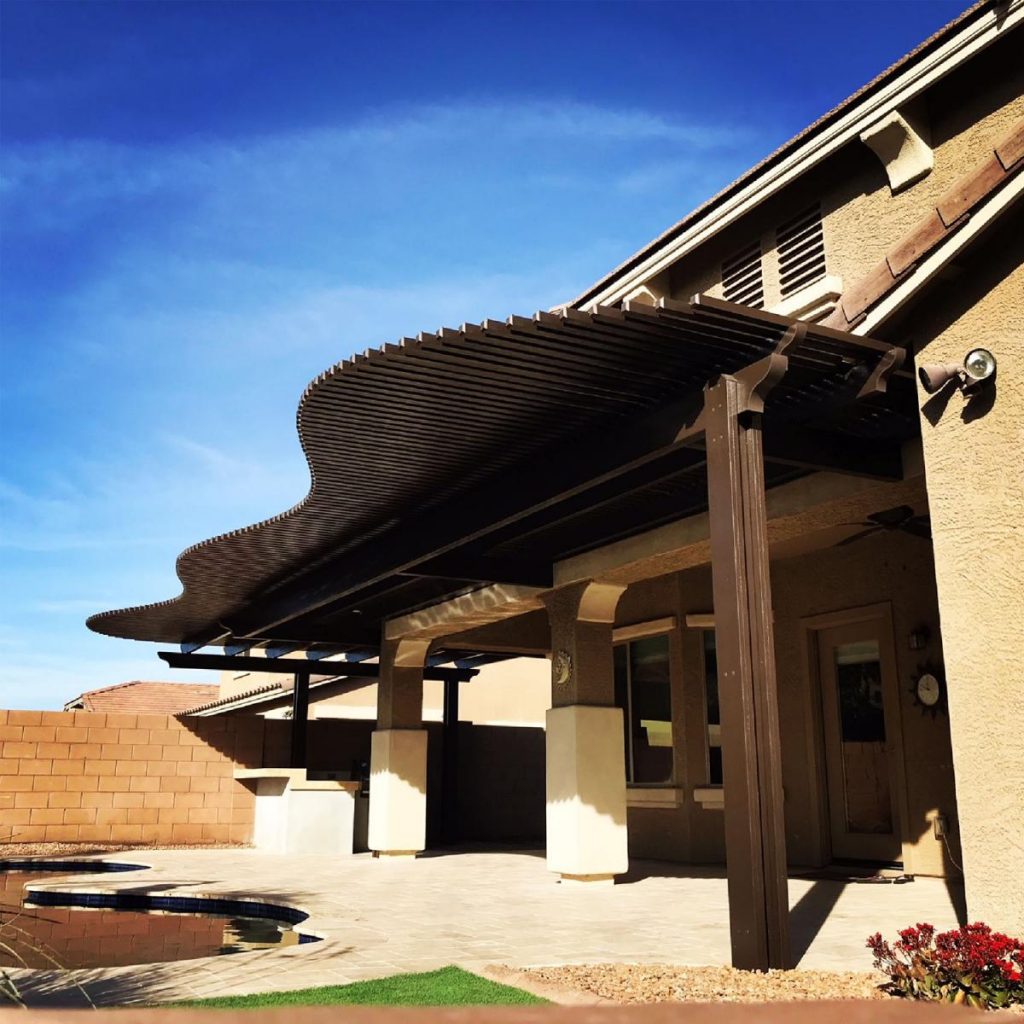 Wood patio covers cost about $10,000. Installation costs range from $7,000 – $13,000. Designing a wood patio cover requires blueprints or drawings for construction unlike vinyl or aluminum which come pre-built. Blueprints for a wood patio cover averages around $1650 while the cost of an engineer will add another $1500.
Pros
Wood patio covers are great because they use natural wood
Your patio cover can be constructed to match your roof or rest of the house
Wood is easily repairable unlike aluminum which dents easy
Increases your homes resale value
Easy installation
Cons
Need a designer and engineer
Can deteriorate faster than aluminum or vinyl
Its extremely heavy
Can become termite infested if not treated properly
Requires re-painting or re-staining (about $2,000 every 2 years.)
More expensive than vinyl or aluminum
Lattice Patio Cover Cost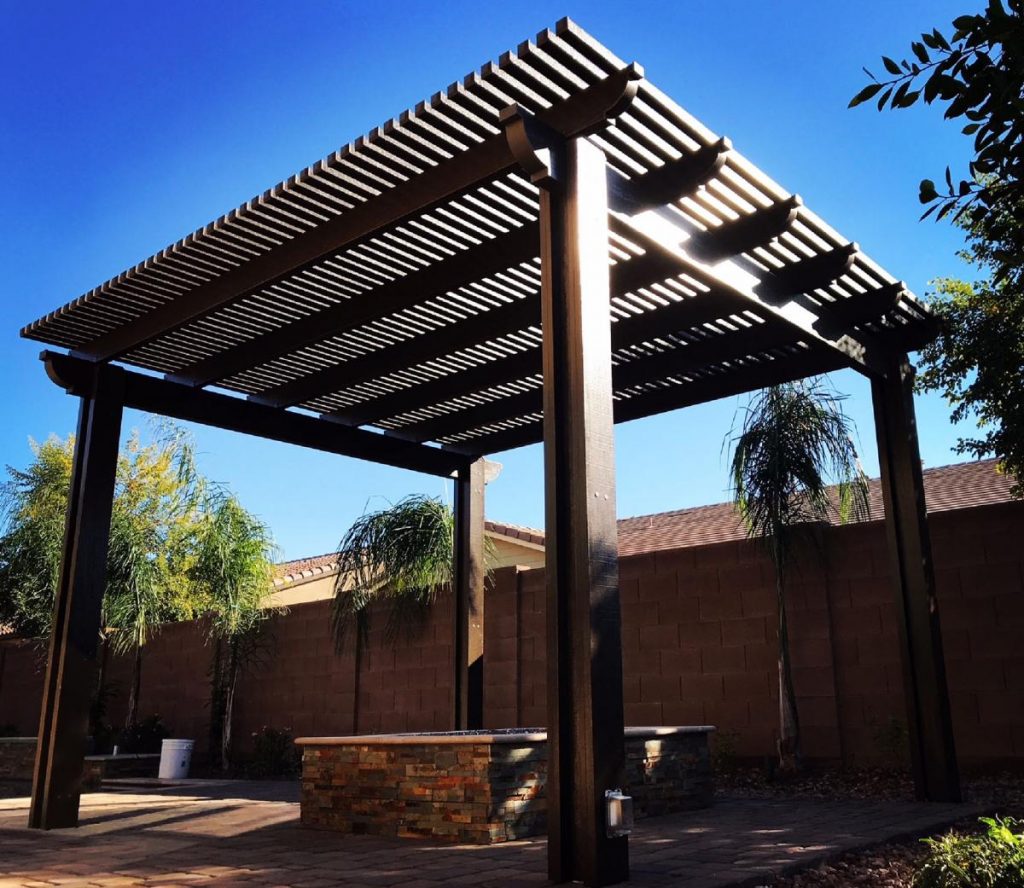 Lattice patio covers cost about $5,750. Installation costs range from $4,000 – $7,500.
Pros
Same pros as wood patio covers
Cons
Same cons as wood patio covers
Alumawood Patio Cover Cost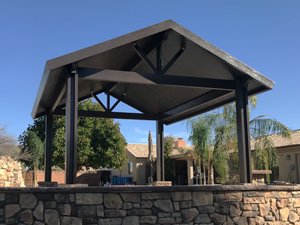 Alumawood patio covers cost about $3,018. Installation costs range from $1,822 – $4214. Alumawood is material that has a wooden texture but is completely made from recycled aluminum. It combines to awesomeness of wood and aluminum without the cons. Alumawood patio covers are a great choice vs wood patio covers as alumawood won't degrade or rot like real wood will. It's also maintenance free unlike some other patio covers.
Pros
Alumawood can be made to look like wood without the cons
Little to no maintenance
Cons
Not real wood or real metal
Pergolas Cost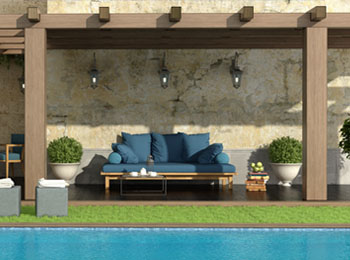 On average, installation of a pergola costs $5,250. Pergola installation costs ranged from $3,500 to $8,000 for the US in 2019. Pergolas, also known as arbors, are a very popular type of patio cover. A pergola is meant to cover your patio, hence the name patio cover, and forma shaded area for entertaining, seating and a simple structure to your outdoor space.
Lean-To Patio Cover Cost
Lean-to patio covers, also known as a house-attached patio roof uses the home's own structure to support one of the ends of the patio-roof rafters. The average cost of a lean-to patio cover is about $1,660. Lean-to patio installation costs ranged from $1,400 to $1,925 in the US for 2019.
Cloth Patio Cover Cost – Awning Cost
Installation of an awning costs $2,455 according to HomeAdvisor. Awning installation costs ranged from $1,250 to $3,691 according to data provided by 1651 homeowners. The lowest cost you could expect to pay for an awning is $400. The highest cost you could expect to pay for an awning is $5,800.
Non Rollup Awning: $375
Canvas Awning: $500
Portable Awning: $525
Metal Awning: $525
Manual Retractable Awning: $1,000
Motorized Retractable Awning: $2,750
JLC Offers Patio Cover Installation In Phoenix, Arizona
If your thinking about installing a patio cover in Arizona, let JLC assist! JLC offers installation of wood, alumawood, aluminum and lattice patio covers and pergolas for homeowners in Phoenix, Gilbert, Glendale, Mesa and other areas in Arizona.