REPLACEMENT WINDOWS • ALUMINUM LATTICE COVERS • PATIO COVERS • SECURITY DOORS
PERGOLA INSTALLATIONS IN PHOENIX, AZ
If you are searching for pergola installation in Phoenix, JLC Enterprises can help! JLC Enterprises offers installation of alumawood pergolas, steel pergolas and cantilevered pergolas in Phoenix, Scottsdale, Mesa, Chandler and Gilbert. Receive a free in-home estimate by giving JLC a call today at 480-967-9183. Popular queries used to find our pergola installation services include: alumawood pergola phoenix az, alumawood pergola, pergola installation near me, pergola installer phoenix, pergola contractor phoenix, pergola builder phoenix, alumawood pergola Arizona, cantilevered pergola Arizona and wooden pergola Arizona.
PERGOLA INSTALLATION SERVICES IN PHOENIX, ARIZONA
JLC is a designer and installer of durable pergolas in Phoenix, Arizona. Read more about our services below.
TYPES OF PERGOLAS INCLUDE THE FOLLOWING
The are 2 main types of pergolas to choose from, the flat/skillion roof, or the gable roof. Each has their own pros and cons.
Gable Pergola
Flat Pergola
Steel Pergola
Sail Pergolas
Pitched Pergolas
Open Top Pergolas
PERGOLA STYLES WE PROVIDE
We can build pergolas in different styles including the following. Please Note: Wood Pergolas are not typical in Arizona anymore due to the heat.
Alumawood Pergolas
Lattice Alumawood Pergolas
Solid Roof Alumawood Pergolas
Cantilever Patio Covers
Wood Pergolas
TYPES OF PERGOLAS WE INSTALL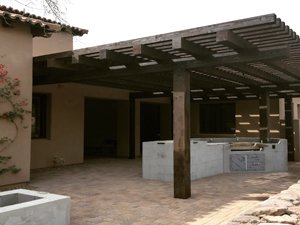 Wood pergolas are a little more costly but offer a premium look and feel. You can even have your pergolas built with the same specific type of wood your home was built with. We no longer offer wood as its not suitable for Arizona.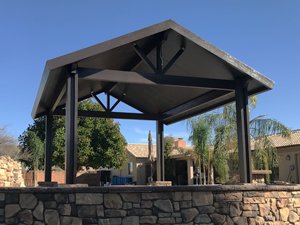 Alumawood pergolas is the most popular pergola installed by home owners constructed using metal that looks like wood. These are perfect for homeowners who like the look of wood pergolas but don't like the high cost that comes along with it.
Lattice pergolas are one of most popular types of pergolas on the market. Lattice work adds beauty to your backyard and look great next to pools, gardens or patios. Enjoy the outdoors in privacy.
OUR PERGOLA IMAGE GALLERY
WHAT IS A PERGOLA?
According to Houzz.com, A pergola is a freestanding or attached outdoor structure that consists of 4 columns that support an open roofing grid of rafters and beams. JLC offers professional pergola installation to Phoenix Valley homeowners.
HOW MUCH DOES IT COST TO BUILD A PERGOLA?
The average cost to build a pergola is about $4,500. Cost range from $3,000 to $6,000 according to Angies List.
HOW MUCH DO INSULATED PERGOLAS COVERS COST?
Costs range depending on the type and size of pergola you choose. However, the average cost of an insulated pergola is $4,250. Costs range from $2,000 for a small insulated pergola to $6,500 for a large pergola with thicker insulated panels.
HOW MUCH DO ALUMINUM PERGOLAS COVERS COST?
The average cost of an aluminum pergolas (20 by 20) ft is about $7,000. Costs range from $3,000 to $8,000.
HOW MUCH DO VINYL PERGOLAS COVERS COST?
According to patiocovered, The average cost of vinyl pergolas is about $4,237. Cost ranged from $2,200 to $6,275 in 2018.
HOW MUCH DO ALUMAWOOD PERGOLAS COST?
The average cost of an alumawood pergolas is about $2646. Costs ranged from $1,079 – $4,214 in 2018.
HOW MUCH DO WOOD PERGOLAS COST?
The average cost of a wood pergolas is about $9,000. Costs range from $4,500 to $7,000 in 2018.
*Disclaimer – This is not an actual quote. Contact JLC to get an actual quote for your pergola project.
FREE PERGOLA INSTALLATION ESTIMATES PHOENIX, SCOTTSDALE, TEMPE, CHANDLER, MESA, GILBERT AND MORE