How Much Does a Patio Cover Cost in 2021?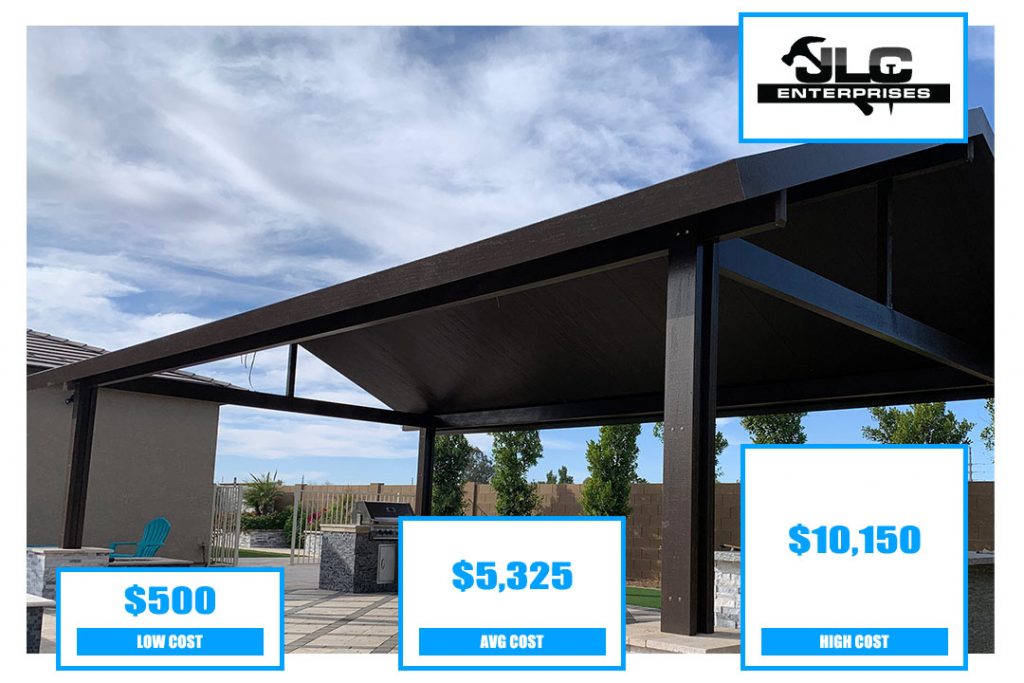 On average, a patio cover or awing in 2021 costs $5,325 in the US. Costs are going to range from $500-$10,150 depending on the patio type, according to Thumbtack. More than likely, at some point you may have to repair or replace your current patio.
Patio cover and awning average cost:
| | |
| --- | --- |
| National | $500 |
| Average | $380 to $700 |
| Low-end | $91 to $200 |
| High-end | $3,000 to $10,149 |
Several factors — the kind of patio cover, its material, if it has insulation, etc. — establish how costly your patio cover or awning is going to cost you. Nevertheless, one of the most important determinants is the labor costs in your location.
Patio Cover Cost Factors
When you presently have a patio, now might be the time for the installation of a cover or awning. Or it could be time to upgrade your current cover to a higher quality one.
Be that as it may, prior to you starting this project, you'll need to budget adequately for it. And in order to do that, you should understand the factors that lead into the final cost. The following are the major cost factors that are going to influence how costly or budget-friendly your patio cover project is going to be.
Size of the Patio Cover
When you have a larger patio, it's enticing to have the whole area protected from the elements. You may also want to extend your roof over the edge of the patio to offer additional protection from the rain and sun. Those are all reasonable desires — but they also come with a price.
Larger patio covers not just means more materials, but it may also require more innovative engineering for supporting larger spans. The kinds of materials additionally change when you plan for larger spans. For instance, a solid wood beam may have covered one distance, but you might now require metal beams to reach the larger space.
Patio Cover Type
Patio covers available nowadays range from straightforward canvas awnings to more complex wooden lattice-type structures. In a lot of cases, awnings tend to be more budget-friendly in comparison to patio covers.
Patio covers can be constructed onto your house as a lean-to or as a free-standing structure. The kind of structure and it's material (aluminum, wood, vinyl, etc.) you want is going to unavoidably play a principal part in a patio cover's overall cost.
Labor Costs for Patio Cover Installation
You are going to need to decide how you'll want to install your patio cover. Are you going to be taking it on as a DIY project, or are you going to hire a patio cover contractor to take care of the installation for you? Hiring someone clearly will cost you more but is usually the best option for those that are too busy or who don't have experience with construction and installation.
Whereas DIY patio cover kits do exist, hiring a professional to install your patio guarantees the job is going to get done correctly and the structure will withstand the elements in the coming years. Contact professional patio cover and awning installers in your area and find out what a patio cover installation is going to cost you.
JLC Enterprises Offers Patio Cover Installations In Phoenix, Arizona
If you are looking for Patio Cover installation services in Arizona, look no further than JLC Enterprises Inc. JLC offers Patio Cover Installations to the entire Phoenix, Arizona Valley, including, Phoenix, Gilbert, Glendale and more.