How To Build A Freestanding Patio Cover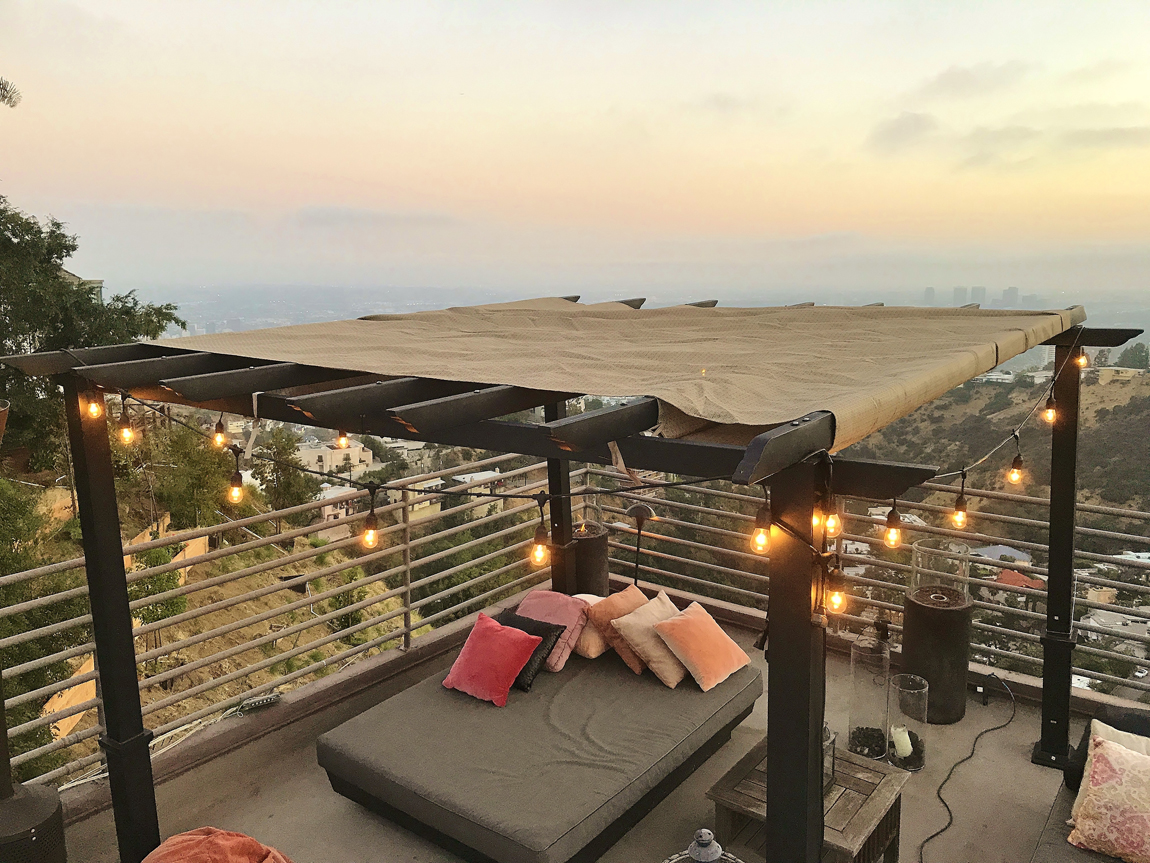 Follow our step-by-step guide to build your own freestanding patio cover.
Step 1. Gather The Proper Materials
Start by preparing pressure-treated boards in these sizes: 4×4, 2×4, 2×6 and 2×10.
Gather a hammer, shovel, socket set, circular saw, wheelbarrow, spade, screwdriver, power drill and jigsaw.
Have some gravel, lag bolts, level, galvanized screws and some gravel just in case.
Step 2. Find A Location
Measure the size of the area where you'd like to build the patio cover.
Use either a rope or stakes to measure the area.
Begin digging out holes for the posts.
Make sure the depth of each hole is 24 inches with a width of 9 inches.
Step 3. Prepare Wooden Posts
Take time to remove moisture since this material can be prone to deterioration.
Incorporate some gravel into each hole for prevention purposes.
The layer depth should be around 3 inches.
Tamp it down afterward.
Pour that same amount of gravel into the holes before tamping them down each time.
Step 4. Install The Posts
Place the 4×4 posts into position.
Use the 2×4 boards to keep the posts in place.
Confirm all post levels before adding cement.
Create a mixture of quick-dry cement, referencing the label directions.
Pour the mixture around each post.
Wait at least 24 hours to let the cement dry completely.
Step 5. Assemble The Beams
Use the 2×10 boards as the beams.
Each beam should be able to cover the distance from one post to another.
Make sure you are careful while cutting the beams.
Once you get the beam, drill holes through it and the core posts, allowing you to assemble them.
Use your 3-inch lag bolts to connect these two parts.
Confirm the levels of each beam before moving on to the next step.
Step 6. Structure The Roof
Cut your 2×6 boards as needed.
Do not cut the boards at identical length as the patio because they need to hang over the outdoor space a bit.
Cut the boards longer than the patio.
Arrange the boards to cross the joint beams, forming a perpendicular pattern.
The boards must be evenly situated across the top of the patio.
Use galvanized deck screws to keep the boards in place.
Step 7. Furnish The Freestanding Patio
Cover the top with your preferred material.
This could be anything from metal panels to lattice wood.
Furnish the patio with decorations and furniture.
Check the level one more time before completing this project.
JLC Offers Patio Cover Installation In Phoenix, Arizona
If your thinking about installing a patio cover in Arizona, let JLC assist! JLC offers installation of wood, alumawood, aluminum and lattice patio covers and pergolas for homeowners in Phoenix, Gilbert, Glendale, Mesa and other areas in Arizona.