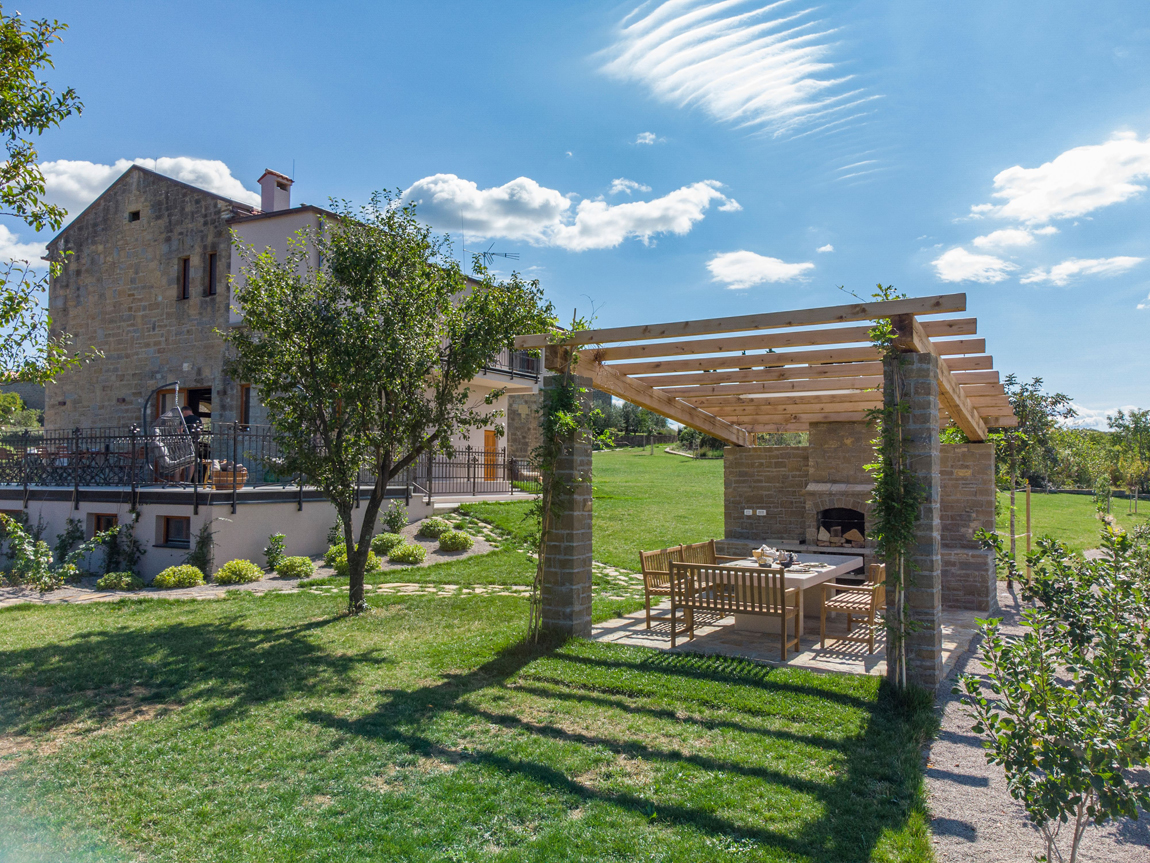 Standard pergolas will range between 8-12 feet tall. This outdoor structure provides a great area to gather and take in some much-needed shade. Let's look at typical pergola heights and what may be best for your property.
What Is A Pergola?
Most experts do not define pergolas as a roof since it is built from a frame with open rafters. This means it cannot fully protect a home from inclement weather. Pergolas can, however, add much-needed shade to a backyard or garden area.
Pergolas can either be freestanding structures or attached to the home, depending on type of design desired. Homeowners can choose from a variety of high-quality wood stains or iron elements to build a pergola that can withstand weather conditions and add to the character of your home.
What Is The Standard Height Of A Pergola?
As stated above, the average pergola will stand between 8-12 feet tall. The height chosen by homeowners often depends on how wide the structure is. A wider pergola typically comes with a tall roof. The optimal height will offer the most protection from the outdoor elements all while maintaining proper air circulation.
Homeowners will choose from attached or freestanding pergolas to add to their garage or patio. Attached pergolas need to be the same height as the structure they are secured to.
Here's a look at the average pergola heights and what these sizes are typically used for:
8-Foot Tall Pergola: This size is ideal for an outbuilding or smaller garage.
10-Foot Tall Pergola: Perfect for outdoor living spaces.
12-Foot Tall Pergola: This is the biggest pergola size, oftentimes attached to other large structures.
Why Install A Pergola?
Here are a few reasons why so many homeowners choose to add these structures to their property.
Pergolas Make A Backyard Beautiful
Pergolas undoubtedly provide beauty in your backyard with their elegant structures. The design styles are created to enhance your yard, pool or patio area. Homeowners have the ability to customize the design to fit their needs. You can choose a material like wood, aluminum, vinyl or fiberglass. Next, you can pick from many different styles, including modern, classic and rustic.
Another way to put in even more beauty is by adding some hanging plants or grape vines to the beams. You can also give your pergola a romantic feel by adding some dusk lighting around the posts or cross beams.
Creates Shade
One of the main reasons why so many homeowners choose pergolas is because of the extra shade brough to the yard. These structures provide some much-needed relief from direct sunlight above.
While pergolas do not provide full shade, their versatile structures will allow for many different shade options. Some different ways to add extra sunblock include adding some fabric sales, plants or bamboo to the structures.
Affordability
Compared to both pavilions and gazebos, pergolas are the most affordable option. Gazebos and pavilions can cost upward of $4,000, while a custom pergola comes with an average cost of $3,500.
Pergolas Add To Your Home's Value
Are pergolas really worth it as an investment? The answer is yes. The pergola's shade and beauty will add value to your home. Experts suggest the landscape of your home can raise your property value by an estimated 15%.
Pergolas can last a lifetime with proper maintenance and care. If you are looking to do as little upkeep as possible, then opt for vinyl as your material of choice.

JLC Offers Pergola Installation In Phoenix, Arizona
If your thinking about installing a patio cover in Arizona, let JLC assist! JLC offers installation of wood, alumawood, aluminum and lattice patio covers and pergolas for homeowners in Phoenix, Gilbert, Glendale, Mesa and other areas in Arizona.