How Much Does Window Replacement Cost?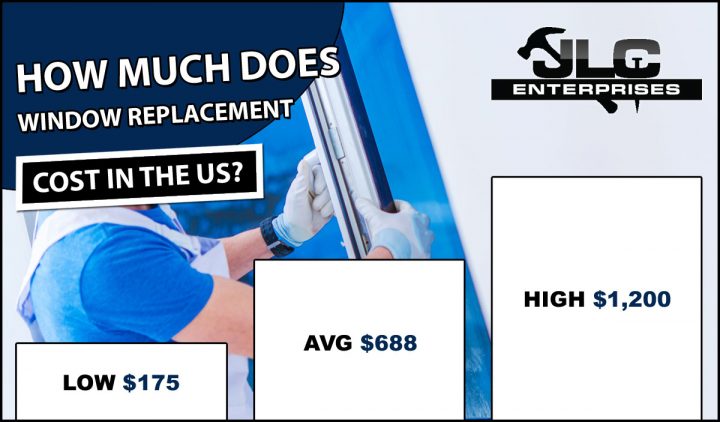 According to Angieslist.com, the average window replacement cost is $688, with average window replacement cost ranging from $175 to $1,200 in the US for 2020. Prices will vary depending on the type of window that is being replaced.
After years of owning your home, you will most likely have to replace a couple of windows in your home. Even though you might take your windows for granted, they remain a vital piece in keeping your home comfortable. Regrettably, our invisible barriers are delicate and can be broken with little force.
Estimating window replacement
Estimating the cost of new windows can be complicated, as there are a lot of factors that contribute to the overall cost. The cost for replacing windows will differ upon their size, the number of windows needed, type and quality, but in spite of the various brands and choices available, budget-friendly replacements can be found easily if you know what you are looking for.
Are the frames of the windows rotting?
Prior to you estimating replacement costs, it's crucial to inspect the current window frames for damages or rot because of insects and moisture. If the frame of the window is soft when you touch them, cracking, or displaying other signs of wear, they will need to be replaced. If they're still solid, you can choose to just install new glass, saving you money.
Common window frames comprise of wood frames and vinyl frames. Vinyl frames are less costly in comparison to wood. Vinyl also lasts longer, and the frames are easily cleaned.
Wood frames are inclined to be costly and have high maintenance. They are required to be painted or stained. Devoid of maintenance they tend to peel and rot because of water damage.
If you must replace the wood frames, anticipate the final cost for their installation and materials to double.
Are you wanting to replace your windows?
Prior to you devising a window replacement estimate, it's vital to have an overall idea as to where you are going to purchase new windows.
Big box type stores might be the best option if you're not wanting to get "hands-on." These stores will typically have fair prices for materials and ideal insurance; however, the commission and installation cost can be high.
For complete window installations, locate your own experienced contractor and window manufacturer. With a conventional-size, double-hung, double-paned, vinyl window, anticipate spending between $450 and $600, including its installation.
Wood windows will be more costly. The price of a wood window replacement may range around $800 and $1,000 for each installation.
When the whole window and framing needs to be removed, be prepared to add a minimum of $50 to $100 for each installation. This is typically called new construction windows or full-frame replacement windows and needs more work with added costs.
Even though the total cost for window replacement may be very high, it needs to be considered as an investment, and you can reasonably anticipate the value of your home to increase.
What is the cost of double hung windows?
Double hung windows cost between $280 to $360, subject on the glass quality and its type of framing. Options are limitless and you might find deals to lower the cost.
Double hung windows were designed to be opened from either the top or bottom, they're great for difficult to access areas, and are commonly less costly. These characteristics make double hung windows the most installed type.
What is the cost of tilt out windows?
Tilt out, tilting windows or tile-and-turn cost an average of around $250 and $500. There are small tilting kinds for glass block windows and other types that may be around $150.
Tilt out windows fold either in or out to uncover the glass's exterior, allowing it to be cleaned from the inside of your home. These kinds of windows are perfect for areas where there is limited exterior access, but they are usually more costly than conventional double hung types.
What is the cost of double pane windows?
The cost of double pane windows ranges around $115 to $250. Double pane or double-glazed windows are revered for their energy-saving capability.
Double pane glass is largely available with various housing kinds, but it does have an increased cost. Double pane glass has an airtight area that's filled with an inert gas. This area functions as a barrier between the outside weather and the house's temperature. This type of construction helps with climate control and combined with an adequately sealed home, you can anticipate saving on utility costs (older homes that have old windows owners can anticipate on saving up to $250 each year on energy bills).
JLC Enterprises Offers Window Replacement in Phoenix, Arizona
If you're thinking about replacing your windows in Arizona, let JLC Enterprises assist! JLC Enterprises offers window installation for homeowners in Phoenix, Gilbert, Glendale, Mesa, and other areas in Arizona. Call us today at 480-967-9183.