REPLACEMENT WINDOWS • ALUMINUM LATTICE COVERS • PATIO COVERS • SECURITY DOORS
STRUCTURAL STEEL INSTALLATIONS PHOENIX
If you're searching for Cantilever Patio Covers or Cantilever Patio Cover in Phoenix, JLC Enterprises can help! JLC offers cantilever patio cover installation services to the entire Phoenix valley, including Phoenix, Mesa, Tempe, Gilbert, Glendale, Arizona and more. We offer cantilever, aluminum, alumawood, lattice and wood patio cover installations. With our many years of professional service and experience customer satisfaction is guaranteed from start to finish. Receive a free in-home estimate by giving JLC a call today at 480-967-9183. Popular queries used to find our patio cover services include: Wood patio covers, lattice patio cover, patio roofs, patio contractors, alumawood patio covers phoenix, alumawood pergola phoenix az, patio covers az, patio cover contractors near me, patio cover builders and patio enclosures.
CANTILEVER PATIO COVER INSTALLATION IN PHOENIX, ARIZONA
A free-standing, cantilever patio cover may be exactly what your property needs! With its floating design and modern look, cantilever patio covers offer the perfect mix of both form and function. These solid structures provide durability and shade, making this the perfect addition to your backyard.
Top quality, high intensity alloy frames are designed specifically to survive any inclement weather conditions in the state of Arizona.
The sleek, modern cantilever patio cover designs can undoubtedly revamp the look of your property.
Minimal room is necessary for anchoring, which makes these structures extremely versatile.
In the hot Arizona summers, these patio covers can bring some much-needed shade to your backyard, barbecue and/or pool areas.
OTHER TYPES OF PATIO COVERS WE INSTALL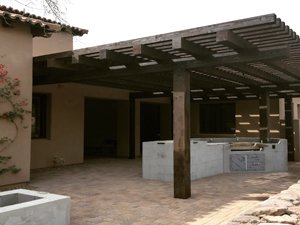 Wood patio covers are a little more costly but offer a premium look and feel. You can even have your patio covers built with the same specific type of wood your home was originally built with.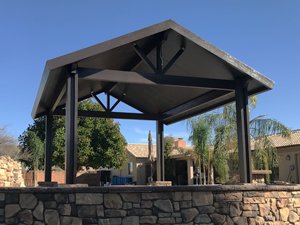 Alumawood patio covers are constructed using metal that looks like wood. These are perfect for homeowners who like the look of wood but don't like the high cost that comes along with it.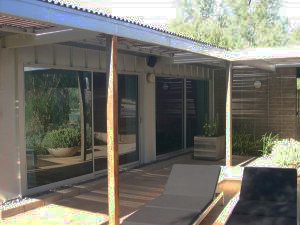 Aluminum patio covers offer the lowest maintenance with high durability. They are easy to install and can resist harsh weather conditions and will never deteriorate like real wood patio covers will.
Lattice patio covers are one of most popular types of patio covers on the market. Lattice work adds beauty to your backyard and look great next to pools, gardens or patios. Enjoy the outdoors in privacy.
CANTILEVER PATIO COVER INSTALLATION
If you are searching for cantilever patio cover installation in Phoenix, JLC Enterprises can help! JLC Enterprises also offers installation of alumawood pergolas, aluminum pergolas and vinyl pergolas.
WHY INSTALL A CANTILEVER PATIO COVER?
These exceptionally strong structures bring durability and beauty to your property. Homeowners will love the fact that their barbecue area can now function as a year-round kitchen area when installing these patio covers. Check out our cantilever patio cover photo gallery below to see how these covers can transform your backyard area.
CANTILEVER PATIO COVERS IN PHOENIX, ARIZONA
ADDITIONAL SOPHISTICATION  Can enhance the appearance of your outdoor patio or yard
ELEMENT PROTECTION – Patio covers offer protection from rain, wind and sunlight
FURNITURE LIFESPAN INCREASED – Outdoor furniture is protected from the elements
ADDITIONAL DECORATION OPTIONS – Allows for additional patio decoration options
EASE OF INSTALLATION – Minimal anchoring room makes for an easy installation process
DEFEND AGAINST SOLAR DAMAGES – Can prevent UB rays from damaging your patio furniture
OUR CANTILEVER PATIO COVER GALLERY
HOW MUCH DO PATIO COVERS COST?
The average cost of a patio cover is about $7,500. Costs range from $2,000 to $13,000 depending on the style, size and type of patio cover you choose.
HOW MUCH DO INSULATED PATIO COVERS COST?
Costs range depending on the type and size of patio cover you choose. However, the average cost of an insulated patio cover is $4,250. Costs range from $2,000 for a small insulated patio cover to $6,500 for a large patio cover with thicker insulated panels.
HOW MUCH DO ALUMINUM PATIO COVERS COST?
The average cost of an aluminum patio cover (20 by 20) ft is about $7,000. Costs range from $3,000 to $8,000.
HOW MUCH DO VINYL PATIO COVERS COST?
According to patiocovered, The average cost of vinyl patio covers is about $4,237. Cost ranged from $2,200 to $6,275 in 2018.
HOW MUCH DO ALUMAWOOD PATIO COVERS COST?
The average cost of an alumawood patio cover is about $2646. Costs ranged from $1,079 – $4,214 in 2018.
HOW MUCH DO WOOD PATIO COVERS COST?
The average cost of a wood patio cover is about $9,000. Costs range from $4,500 to $7,000 in 2018.
*Disclaimer – This is not an actual quote. Contact Xcel Xteriors to get an actual quote for your patio cover project.
FREE PATIO COVER INSTALLATION ESTIMATES IN PHOENIX, SCOTTSDALE, TEMPE, CHANDLER, MESA, GILBERT AND OTHER SURROUNDING ARES